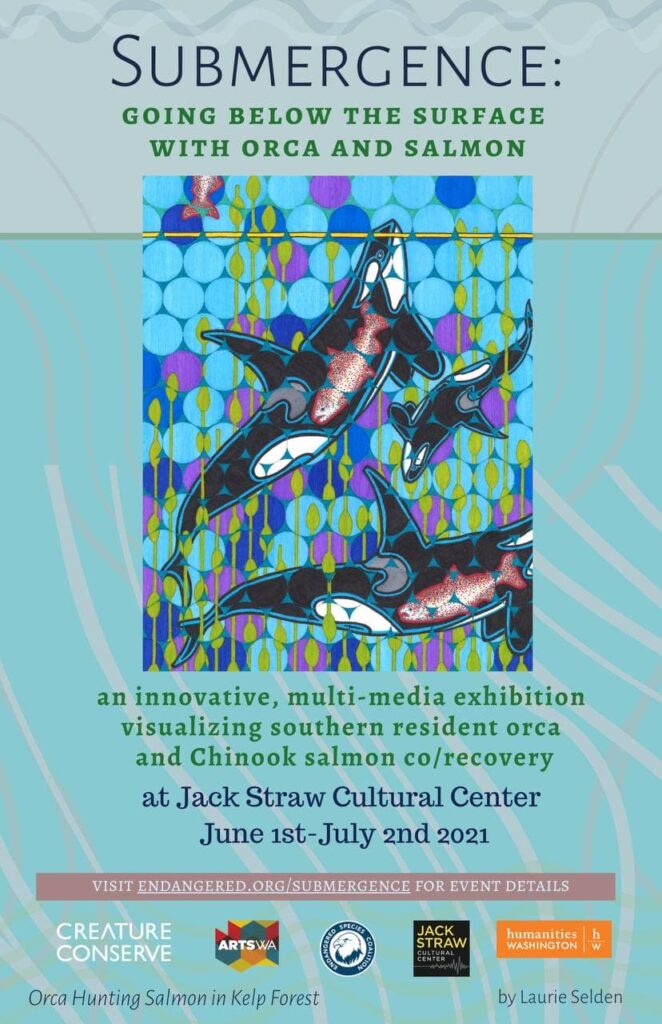 "Environmental Crisis" by Natalia Kapchuk became part of the group exhibition Submergence — Going Below the Surface with Orca and Salmon, dedicated to marine life and their habitats. The show presents the works of contemporary artists from the USA and Great Britain, who reveal the topic from different angles. Candy wrappers, cups, and small beauty plastic items frozen in resin clearly showcase the level of water pollution in the ocean. The large black "oil" spot in the center has become an artistic dominant, creating the necessary contrast with the blue smooth surface. The final accent in the form of a fish skeleton finally puts the viewer before the fact of the consequences of the negative impact of industrial activity on nature.
Submergence: Going Below the Surface with Orca and Salmon is an innovative, multimedia exhibit featuring visual art, centering on the theme of southern resident orca and Chinook salmon co/recovery. Submergence took place during Orca Month 2021 (June 1st-July 2nd, 2021) and was supported by the Endangered Species Coalition. The exhibit was the culmination of a year-long workshop and event series, where artists studied the importance of these marine life to biodiversity and the impact on culture.
The exhibition opened at the Jack Straw Cultural Center, Seattle, USA on June 4. Within the framework of the exhibition, artists reflected on the beauty of marine animals, their protection and restoration of the population of orca and chinook.
Visits are by appointment only and can be scheduled Monday-Friday, between 10:00 am and 5:00 pm. Please call 206.364.0919 or email jsp@jackstraw.org to schedule your visit.