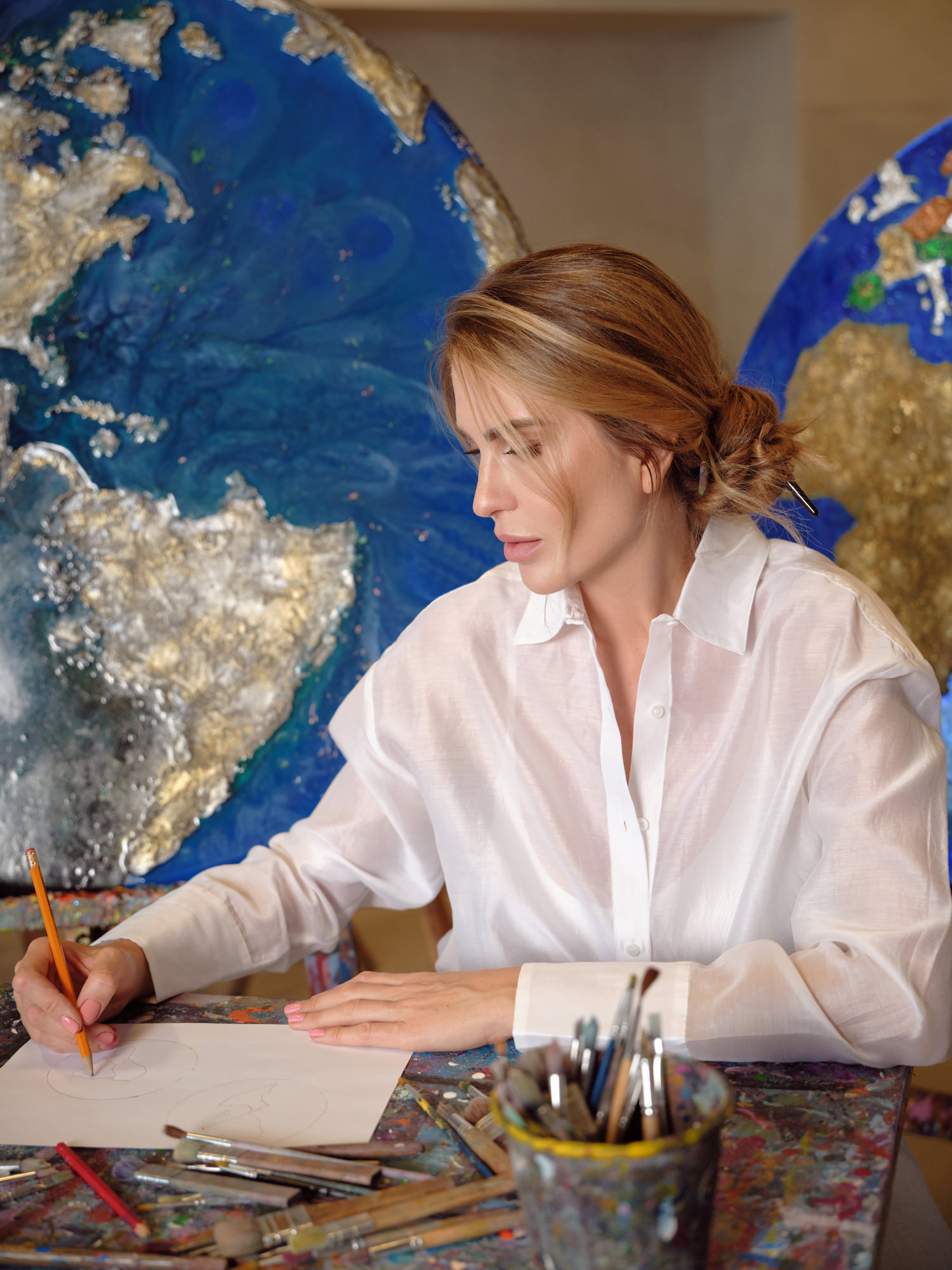 Natalia Kapchuk's environmentally centered mixed-media works tap into the unbridled beauty of our planet juxtaposed to the destructive forces of human activity and the impacts they have on these majestic lands and oceans.
Adorned with natural elements and the innovations of the 21st century, Kapchuk constructs her art pieces with the intention of highlighting the ongoing war between man and nature, often painting opposing scenes
of wonder with the harsh realities of today. The use of vibrant colors and uniquely selected materials of the artist have a penetrating effect on the psyche, often leaving observers in a state of action and self- reflection.
ARTIST BIOGRAPHY
Natalia Kapchuk was born in Yekaterinburg, Russia. Early in her childhood, she took a particular interest in the arts, as she started her career making small ceramic sculptures for sale at local art fairs at the young age of six. Inspired by her mother, an artist and sculptor herself, Kapchuk gradually learned the basics of sculpting ceramics. Naturally, art school became the next stage in this developing artist's progression, where she studied art history, drawing, painting, and composition. Broadening her interests, Kapchuk later studied foreign languages and international politics, receiving a Bachelor's degree from Ural State University in Yekaterinburg, Russia, majoring in International Relations. After graduation, she left her birthplace of Russia to explore the globe, garnering inspiration for her future art projects.
To further her education within the arts, Kapchuk completed additional courses at Central Saint Martins College of Art and Design in 2017, followed by The Chelsea College of Arts in London, UK. Now an internationally acclaimed artist, Natalia Kapchuk is dually based between Dubai (UAE) and London (UK), where she spends most of her time.
Favoring the technique of mixed-media assemblage, Natalia is known to construct her works with a combination of mediums, often featuring reclaimed, natural, and industrially resourced materials such as tree bark, sand, natural stones, clothe, fermented moss, polymers, resi-crete, gilding, metal chips, plastic, etc.
Gathering inspiration from the wonders of nature, Natalia Kapchuk explores the world, paying close attention to pressing global issues like environmental concerns caused by anthropogenic impacts. These observations have a heavy influence on her creative approach and aesthetic. Kapchuk is an ambassador at The Parliamentary Society of Arts, Fashion and Sports (UK), an ambassador for the Better World Fund (BWF), and a philanthropist supporting charities and organizations dedicated to protecting the lands and oceans of the world.
ARTIST STATEMENT
"Such a blessing it would be to live in a world where the innate beauty of nature is allowed to thrive and exist, unadulterated by the hands of humanity; Where canopies of ancient treetops remain cemented, continuing to reach for the skies while protecting the creatures who seek refuge below. An ocean whose unfathomable power is without obstruction, exempt from the effects of industrialization, allowing the tides to marry the shores unsullied. A planet where interactions amongst diverse societies are of mere peace and harmony. Not of conflict and competition. In a perfect world, this would be the case. Unfortunately, this world does not exist…yet.
My artworks are an actualization of my observations— my emotions and sentiments. As an artist conscious of the world around us, I choose to express myself through creation, as I understand that art has a penetrating influence on the soul. My mission is to use the power of art to instill hope that the pathway to a more promising world for all of Earth, its inhabitants, and future generations to come is achievable through collective focus and action."
Download CV