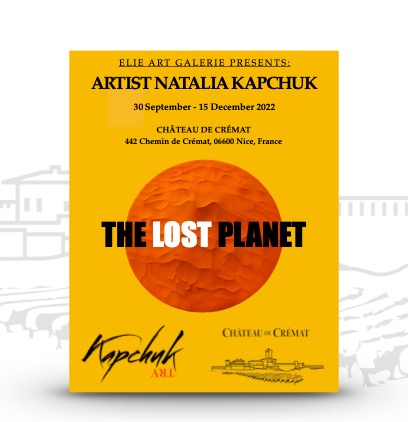 Environmentalist, Philanthropist, and Contemporary Artist Natalia Kapchuk's The Lost Planet series will feature as a part of the group exhibition at the remarkable Château de Crémat in Côte d'Azur, curated by Elie Art Galerie.
The Lost Planet series of works developed in the artist's signature technique expresses the natural unicity of our beloved planet juxtaposed to the dire environmental concerns caused by anthropic impacts. Using her talents, artist Natalia Kapchuk reflects on crucial topics such as climate change, plastic pollution, irrational exploitation of natural resources, deforestation, and many others. The mission of the artist is to spread much-needed awareness regarding the plight of Earth, grabbing the world's attention to the far-reaching ecological concerns. Natalia Kapchuk's art pieces appeal for their self-reflecting nature and resonance, reenvisioning the daily activities for humanity, offering a more promising world for present and future generations, and all of Earth's inhabitants.
Among the artworks present are (2) newly developed pieces Simulated Earth (2022) and Saharan Sands (2022). Expressing both the beauty of nature and innumerable disasters seen today, Natalia Kapchuk's artwork Saharan Sands (2022) represents one of the majestic wonders of our planet, the world's largest hot desert, the Sahara, in an array of rich red and golden-orange hues, simultaneously bringing attention to the dire environmental issues of this unique area, such as wildfires, desertification, poor soil quality, and many more, caused by climate change and human activity. Moreover, in the art piece Simulated Earth (2022), the artist reflects on the role of technological advancement and current digital developments within the world today. To express this sentiment, Natalia Kapchuk depicts our planet utilizing reclaimed and repurposed LEGO pieces and microchip elements to construct the world's continents symbolically overtaken by AR and VR technologies.
Continuing the artist's theme of advanced technologies, the installation will showcase (6) exclusive AR works for select pieces from The Lost Planet series designed by Natalia Kapchuk. This set of unique AR codes brings the artist's physical works into the digital domain, providing a breathtaking immersive experience for the observers present. Alongside the physical and AR artworks, an animated video installation accompanies the exposition, expressing the artist's reflections on the malleability of nature in the presence of economic, social, and political factors.
The Lost Planet exhibition at the Château de Crémat will take place from 30th September to 15th December 2022, 442 Chemin de Crémat, 06600 Nice, France, proceeded by an exclusive Private View held on the 29th of September.