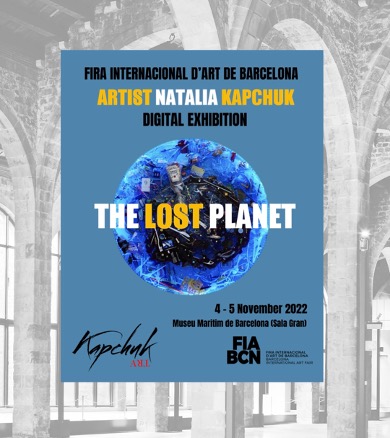 From November 4th to the 5th, the historic Museu Maritim de Barcelona will hold the 7th edition of its annual art fair Fira International d'Art de Barcelona 2022 arranged by International Cultural Management (ICM) Gestora Cultural in collaboration with leading international art curators. This remarkable international art fair, also known as FIABCN, brings together emerging and established galleries and artists, selected by a professional jury, bolstering their many talents and creativity.
Since the successful debut of the environmentally focused series of works ,The Lost Planet, by contemporary artist and philanthropist Natalia Kapchuk at the Unit X Art Space in London, the installation has traveled across the globe and has been presented at many large-scale international art fairs such as Expo 2020 Dubai, UAE, India Art Fair in New Delhi, and the Armenia Art Fair, Yerevan, spreading many messages embedded within each piece regarding the plight of our beloved planet.
Presently, artist Natalia Kapchuk's artworks from The Lost Planet series have been selected for participation in a digital exhibition for FIABCN 2022, in addition to, the artist being honored with a nomination for the prestigious Premi International d'Art de Barcelona (PIAB) Award.
Among the artworks that will showcase at FIABCN 2022, the captivating piece Environmental Crisis (2019) will be presented. Here, artist Natalia Kapchuk highlights the devastating issue of plastic pollution and its dire consequences.