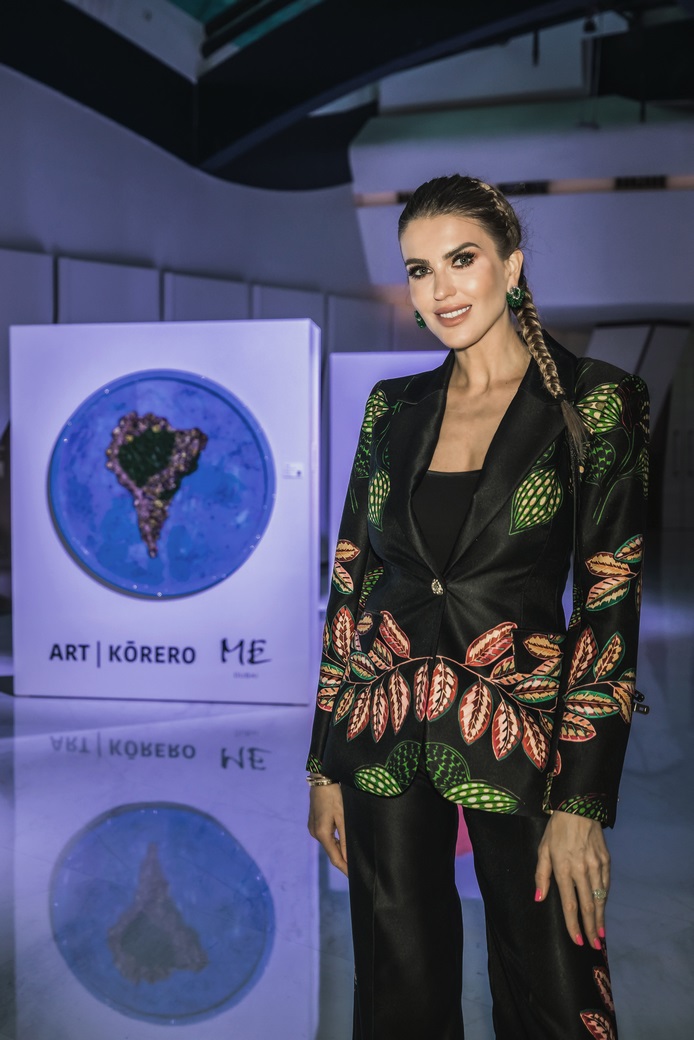 On March 3rd, an exclusive private view was held at the remarkable ME Dubai Hotel, designed by the late Zaha Hadid, to mark the opening of Natalia Kapchuk's breathtaking solo exhibition, "The Lost Planet". The exhibition was arranged in collaboration with Art|Kōrero, JP Art Advisory, and FprBuro Communications Agency. Over twenty large-scale mixed-media creations, as well as digital and AR installations, adorn the stunning hotel's atrium and the newly dedicated third-floor gallery space. The exposition is accompanied by the calming sound of nature and decorated with plants to enhance the immersive experience of The Lost Planet's world.
Since its inauguration in early 2019, The Lost Planet series now is home to more than forty unique creations, portraying the current world. The exhibition showcases half of the environmentally-centered artworks from The Lost Planet series, highlighting the artist's captivating designs and her use of exceptional techniques, various materials, and an eco-friendly approach. Drawing inspiration from the natural unicity of our beloved planet and its many wonders, each creation focuses on the innate beauty of nature, either in its entirety or affected by the consequences of dire environmental concerns, caused by anthropic activity.
A special selection of artworks is featured within the hotel's breathtaking lobby. Among the other creations, the captivating sculptures Fertility (2021) and Renewal (2021), displayed in the center of the hall, perfectly complement the interiors of the hotel's atrium. The main part of the exposition is located on the third-floor gallery space. There, at the opening event, guests had the privilege of viewing the latest pieces from The Lost Planet series, including Glacial Iridescence (2022) and Revenge of the Denali (2022), which reflect Natalia Kapchuk's thoughts on the irreparable consequences of climate change. Furthermore, the artist's recent artworks, Fairytale Lands (2022), Earth or Mars? (2022), and Algae Bloom (2022), feature striking colors while adorning the gallery walls, catching the attention of visitors.
More than 80 special guests, including influential art collectors, representatives from the global art community, media editors, and influencers, attended the anticipated opening and vibrant VIP cocktail reception, which was also featured in the VIP events calendar by the leading contemporary art fair Art Dubai. Among the evening's guests were Rosemin Madhavji, founder of PR&CO Luxury, Lara Tabet, a TV presenter, founder of Arab Fashion Preneur and philanthropist, and British artist Sacha Jafri. The Lost Planet exhibition runs from March 4th to May 1st, 2023 at the ME Dubai Hotel in Dubai.