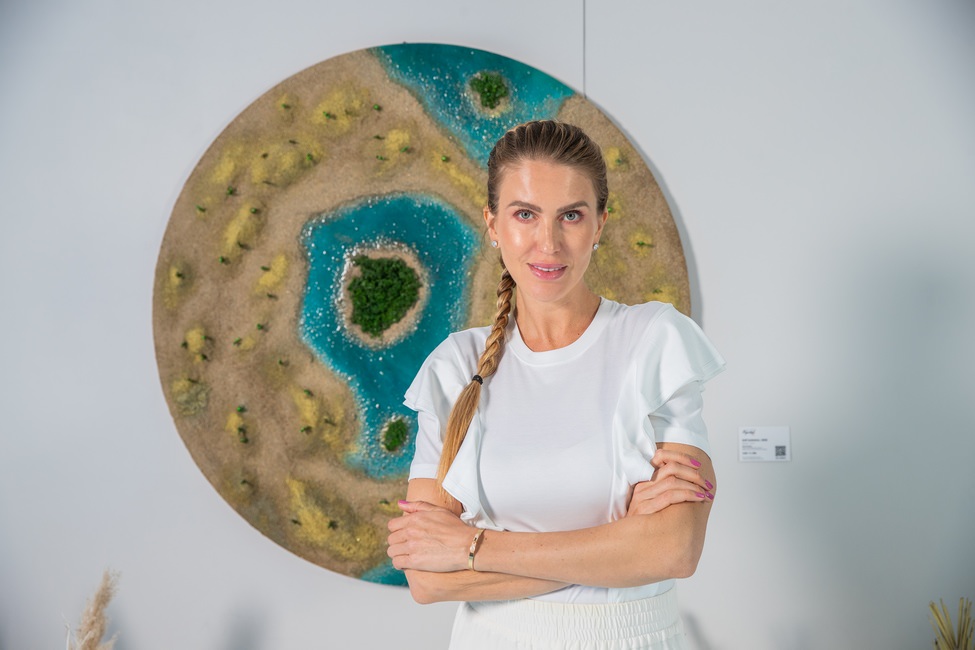 On the 1st of May, the solo exhibition of "The Lost Planet" series by contemporary artist and environmentalist Natalia Kapchuk concluded at ME Dubai Hotel.
The "Lost Planet" project was initiated back in 2019 and now consists of over forty environmentally-centered mixed-media artworks that tap into the unique natural beauty of our beloved planet and its wonders, juxtaposed with the devastating consequences of environmental concerns caused by human activity.
The spectacular art show, organized in collaboration with ArtKōrero, JP Art Advisory, and FprBuro Communications Agency, featured over twenty selected art pieces from "The Lost Planet" series, as well as AR and digital installations, adorning the walls of the stunning atrium and third-floor Gallery Space. Attendees had a unique opportunity to view Natalia Kapchuk's latest artworks, which were exhibited for the first time. Alongside the wellknown art pieces from "The Lost Planet" series, vibrant colored artworks such as "Fairytale Lands" (2022), "Earth or Mars?" (2022), and "Algae Bloom" (2022), as well as art pieces like "Glacial Iridescence" (2022) and "Revenge of the Denali" (2022) representing the severe consequences of climate change, were also showcased. The exposition was accompanied by the calming sound of nature and adorned with live plants to create an immersive experience and immerse viewers deep into the worlds of "The Lost Planet."
The exhibition period was filled with various notable events, such as an exclusive Private View that brought together representatives from the global art community, and a Gala Breakfast organized within the 'Woman is Art' annual campaign by ME by Meliá, co-hosted by Natalia Kapchuk. Moreover, the artist co-hosted the ArtKōrero Painting Workshop, sharing her professional expertise in environmentally-centered approaches to art, and gave a Private Tour of the Art Show, sharing the concept and creative process of each art piece, as well as the history of "The Lost Planet" series.
The exhibition drew numerous visitors during its residency, leaving a long-lasting impression and provoking thoughts on the powerful subject matter regarding our precious planet.